CEREC Crown in a Day in Arlington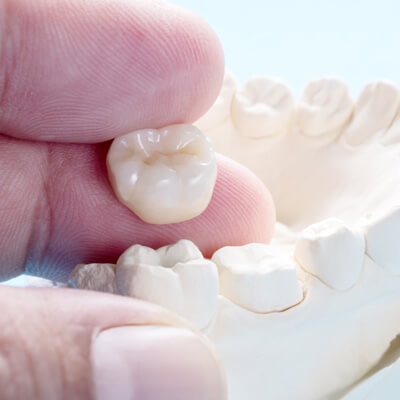 Dental crowns used to involve multiple visits to the dentist, multiple injections, temporary restorations and lots of inconvenience. At Arlington Dental, we offer natural-looking porcelain solutions in one visit. In most cases, you'll be in and out in about two hours.
Our dentist,
Joseph Reed, DMD, MAGD
, has over 30 years' experience and the expertise to create beautiful, long-lasting restorations to improve both the health and appearance of your smile.
What Are They For?
Crowns are porcelain restorations that cover the entire top of a tooth all the way to the gumline. They are used to repair a broken tooth, for a tooth weakened by multiple fillings, after a root canal, or on top of an implant. Because they cover the whole tooth, they provide extra stability to support the tooth and protect it during chewing.
What to Expect
After administering anesthetic, we begin by removing about 2 mm of tooth material from the top of the affected tooth and 1-2 mm of material from all the sides. Then we take high-speed images of the tooth to create a digital model. We use the model to design the final product, adjusting it until it is the perfect size and shape. Then we use our in-house CEREC milling machine to mill the crown out of a solid block of porcelain. It takes a few minutes to mill it, and then we polish it to create the texture and appearance of a natural tooth. Finally, we cement it to the tooth, and you are done!
Keeping You Comfortable
We do not do any work that you can feel. We never want to create a negative experience that will contribute to a patient's fear of seeing the dentist, so we ensure that you are comfortably numb for your procedure.
In addition, Dr. Reed offers both oral and IV sedation for our high-fear patients. Please note that in order to receive sedation, you must have been seen by your regular doctor within the previous 12 months.
How Long Do They Last?
Crowns are a very long-lasting restoration that can last 15-20 years, depending on your overall health and oral hygiene. If you are missing many teeth, that can cause the existing teeth to be stressed and overloaded, shortening the life of the restoration.
Financing Available
Some insurance may cover this type of restoration. As alternatives, we offer 0% financing and accept CareCredit®. We also have our own in-house insurance. We'll explain the costs and all of your payment options so you can make the best choice for you.
Schedule Today
Restore your smile with a durable crown. Contact us today to book your appointment.
CONTACT US
---
CEREC Crown in a Day Arlington TX | (817) 303-5700