Orthodontics in Arlington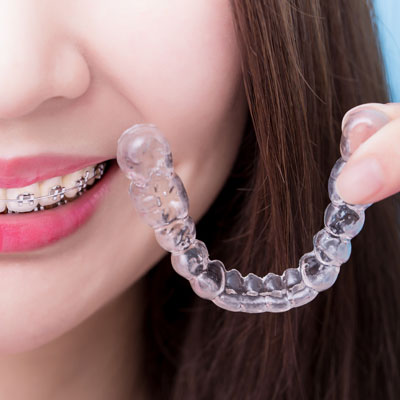 While some people think of orthodontics as cosmetic, its real purpose is functional—it's about creating the best alignment of the teeth to allow for proper cleaning between and around them, and to create a healthy bite that doesn't result in wear, erosion or pressure on the temporomandibular joint (TMJ). People with crowded teeth lose many more teeth than people with straight teeth because crowding causes cavities and gum disease.
We tell parents to have their kids checked at about age 11. Of course, adults can start orthodontics at any time, but the sooner you straighten your teeth, the better your overall oral health can be.
At
Arlington Dental
, we offer both traditional braces that use brackets & wires to straighten teeth and clear aligners that use plastic trays to accomplish the same.
Traditional Braces vs Clear Aligners
Traditional metal braces are still the best way to go for kids and teens. In general, kids are not compliant enough to wear the clear aligners as they should, and they frequently lose the trays. We also use traditional braces for adult patients with more complex alignment or bite issues.
Clear aligners are the choice of most adults—since they're clear, they're more aesthetically pleasing than metal. We offer both Invisalign™ and ClearCorrect (ClearCorrect aligners are made in Texas).
What to Expect
At Your appointment, Joseph Reed, DMD, MAGD, will conduct a thorough examination, including appropriate X-rays and other imaging to design the treatment plan for you. Traditional braces involve regular checkups to tighten the wires and monitor progress. It's more difficult to brush and floss well with braces, so your regular cleaning appointments are very important.
Clear aligners come with a series of plastic trays that gradually move your teeth—you wear each set of trays for a set length of time, and then move on to the next set. You wear your aligners for 22 hours every day, only taking them out to eat, drink (you don't need to remove them while drinking water), and brush and floss your teeth.
Book Today
Achieve the beautifully aligned and confident smile you've always wanted. Contact us today to schedule an appointment!
CONTACT US
---
Orthodontics Arlington TX | (817) 303-5700