New Patients at Arlington Dental
We look forward to welcoming you to Arlington Dental, where we specialize in care for high-fear patients and others. You may complete your new patient paperwork online before you come in, or on our tablets at the time of your appointment. Please be sure to bring your government-issued ID and your insurance card.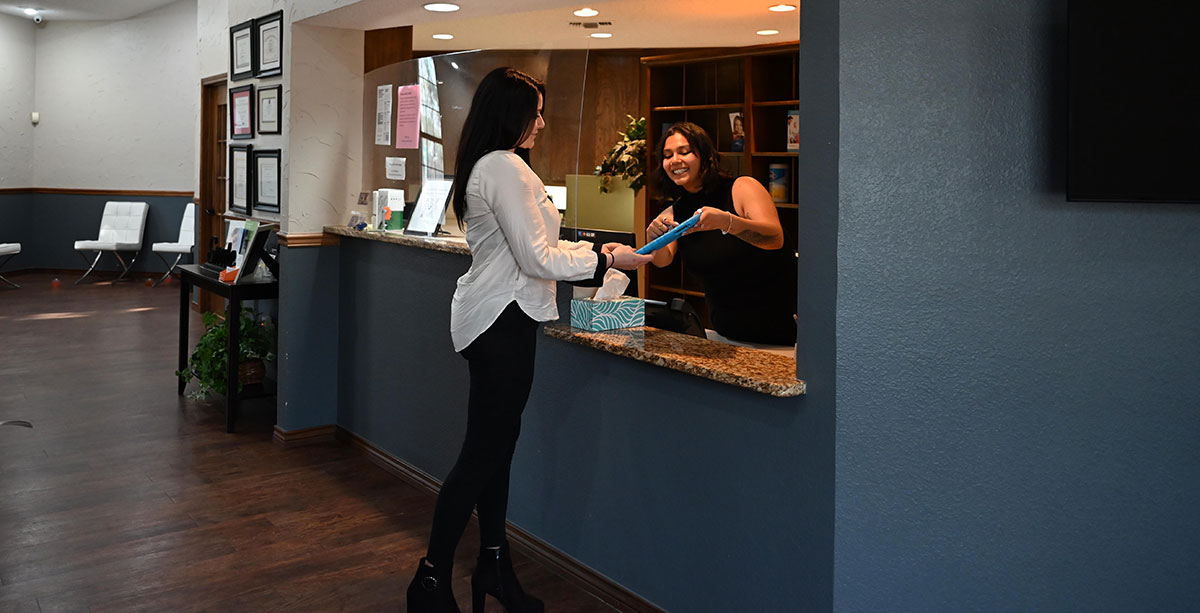 Your First Checkup and Cleaning
When you enter our friendly, down-to-earth practice, our front desk staff will greet you, help with any paperwork that needs to be completed and verify your insurance coverage for you.
The majority of our team, including Dr. Reed, are capable in speaking both English and Spanish. As a result, we are well-equipped to effectively cater to patients within the community who either exclusively communicate in Spanish or would prefer to do so.
Our assistant will take you to an exam room, where the hygienist will conduct a thorough exam and take a full set of X-rays and photos before cleaning your teeth. Then Dr. Reed will come in and do his examination and let you know about any treatment that may be needed. If you need further treatment, we'll get you scheduled for that. Otherwise, we'll schedule your next check-up. This first visit is comprehensive and takes about an hour and a half to two hours.
Your First Emergency Visit
If your first visit is due to a dental emergency, we will do a limited exam of the problem area and take only the X-rays necessary to diagnose the condition and create an appropriate treatment plan. Most of the time, an emergency involves a toothache caused by a cavity that has led to infection, and a root canal or extraction may be necessary. Once there is an infection, it's important to remove the infected tissue as soon as possible, so we will treat the problem at this visit.
Sedation Dentistry
Dr. Reed is certified to provide both oral and IV sedation, which are typically offered for our high-fear patients. Please note that you must have had a doctor's visit within the previous 12 months in order for us to administer sedation.
Schedule Today
We are in-network with PPO plans such as Aetna, Delta, United Health Care, Signa, MetLife, GEHA, Blue Cross/Blue Shield and more. We will be happy to verify your coverage before your visit.
Contact us today to book your first visit.
CONTACT US
---
New Patients at Arlington Dental | (817) 303-5700