Preventative Dentistry in Arlington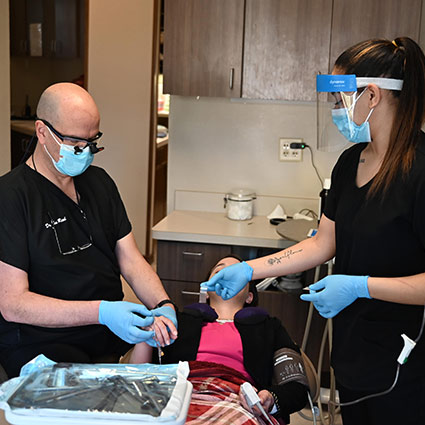 Our goal at Arlington Dental is to help our patients keep all of their natural teeth. Prevention is the best way to avoid serious dental problems, and that includes what you do at home—brushing and flossing. It also includes regular care in our office, so we can identify any problems early on before they become serious and endanger a tooth.
Joseph Reed, DMD, MAGD
, has 30 years of experience providing effective, comfortable care to help our patients maintain great oral health for a lifetime.
Checkups and Cleanings
For most patients, we want to see you every six months for a checkup and cleaning. We offer both healthy-mouth cleans and unhealthy mouth cleans ("deep cleans" that include the non-surgical treatment of gum disease).
At your regular checkup, we will do an in-depth examination. Your hygienist will measure and chart your gum tissues and look for any pocketing (areas of bacteria in the gums) that may need gum treatment, check for oral cancer, check your lymph nodes, make dietary assessments and offer education about cleaning dentures or teeth, including brushing and flossing.
Dr. Reed will also do his examination, which includes an oral cancer screening, assessing the temporomandibular joint (TMJ), checking your bite for unusual wear patterns or erosion, and looking for cavities and missing or broken teeth. We will take a full set of X-rays and intraoral photos and do a thorough cleaning and fluoride treatment at this visit (unless there are areas that require treatment prior to cleaning.) This visit takes between an hour and a half to two hours.
Dental Phobia
Patients who have had negative dental experiences in the past may avoid getting preventive care out of fear. This can lead to big problems that they can't ignore. We cater to patients with dental phobias, providing a variety of sedation options from laughing gas through IV sedation to allow them to get the regular dental care they need to prevent problems from arising.
Book Today
Keep your teeth healthy for life! Contact us today to schedule a checkup and cleaning.
CONTACT US
---
Preventative Dentistry Arlington TX | (817) 303-5700